Do you need to outfit your best friends so that they look just as fabulous as you on the big day?  Bridesmaid dresses often get the bad rap but one of the easiest ways to combat bridesmaid dress fatigue and find what is trending now is looking to the latest bridesmaid dress trends for inspiration.  There are always simple and classic dresses you can depend on for a timeless look, but if you are craving something that feels "now," what could be better than a trending color, unique design, fresh fabric, or silhouette like long bridesmaid dresses?
There are many decisions that go into planning a wedding and choosing the perfect bridesmaid dresses is one of them! Besides trying to decide on color, style, and fabric, but length is something you will also need to consider. Perhaps you are having a July wedding but really love long bridesmaid dresses. Or maybe you prefer short, cocktail styles, but your bridesmaids are not comfortable showing off their legs.
Check out some of the top long bridesmaid dresses trend in 2020 so you can get the job done. From halter necklines to sleek silhouettes and fresh colors to consider, these are definitely not your average bridesmaid dresses, but they are better.  These 2020 bridesmaid dresses from Babyonlinedress (https://www.babyonlinewholesale.com/) will give you an entirely new set of styles to work with, so choose your favorite design and get shopping.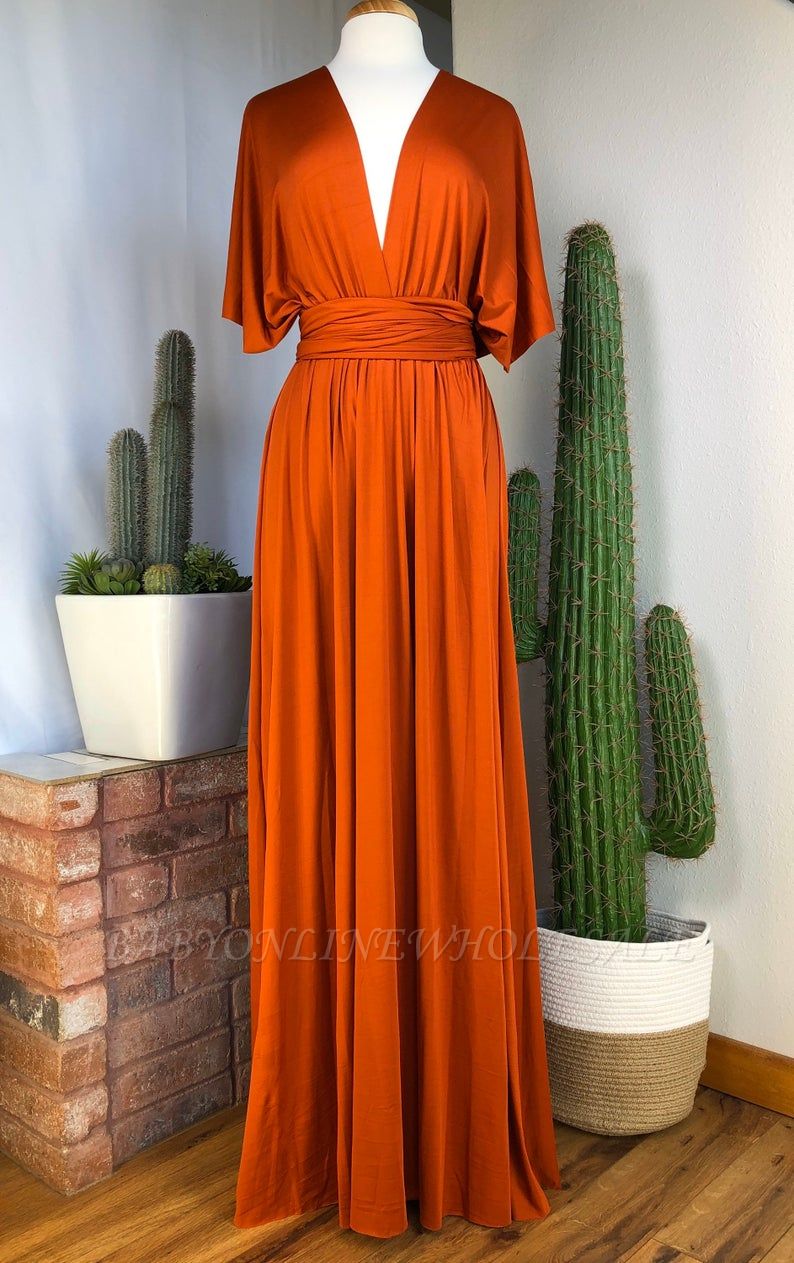 With sleeves and straps still trending for 2020 bridesmaid dresses, there is also a spike in traditional halter necklines and sleeveless mock-neck styles. This halter neck dress (https://www.babyonlinewholesale.com/halter-v-neck-chiffon-slim-bridesmaid-dress-simple-style-maid-of-honor-g16264) is ideal for creating a formal look.  Have your bridesmaids complete the sleek look with straight hair parted down the center or an elegant updo.
Expect this grape hue to be an "It" color for bridesmaid dresses in 2020.  This color strikes the perfect balance between bold and traditional. It makes a stylish alternative for those who want to bring a sense of drama and luxury to your big day. Dress all of your 'maids in this shade for a seriously regal effect.
Long bridesmaid dresses (https://www.babyonlinewholesale.com/long-bridesmaid-dresses-c35) are an elegant choice.  These bridesmaid dresses can be formal or casual, depending on the specifics.   Whether all of your bridesmaids are going for the floor-length look, or just a few of them like the longer cut, long dresses are a classic option for any wedding. There are some fabulous details that will highlight the length of your dress to perfection.