If you are planning to get married in 2021, congratulations!  You are probably a little overwhelmed with the wedding decisions you will be making like the wedding dress, the seating plans and then there are the bridesmaid dresses to think about. Just what styles or shades are your best friends going to wear?   Your next step is to find attractive and affordable bridesmaid dresses that your best friends will like and be comfortable wearing them.  Trying to find a bridesmaid dress that fits all of those requirements in one place is even harder.
The good news is there are plenty of places you can order bridesmaid dresses online and that one particular retailer is Babyonlinedress (https://www.babyonlinewholesale.com/).  This popular online boutique carries a  wide variety of styles, sizes, and colors.  Its collection of bridesmaid dresses will have your bridal party looking beautiful for the big day.  Scroll ahead to find some of the favorite bridesmaid dresses that are going to be trending in 2021.
Dresses with open backs, sequin and glamorous fit-and-flare skirts like the ones above (https://www.babyonlinewholesale.com/gold-sequins-sparkly-bridesmaid-dresses-g9027) are just a few ways to give your bridal party a breath of fresh air.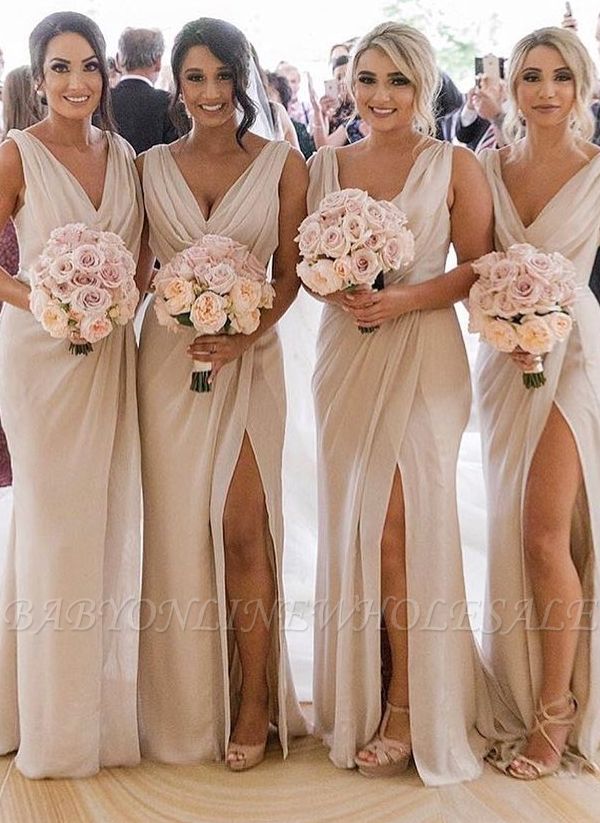 This elegant V-neck chiffon bridesmaid dress (https://www.babyonlinewholesale.com/simple-chiffon-long-bridesmaid-dresses-v-neck-sleeveless-side-slit-prom-dresses-g10338) with a side slit is an absolute stunner.
First were the strapless necklines, followed by cold-shoulder styles.  Now the one-shoulder necklines are making waves again.  This asymmetrical neckline dress (https://www.babyonlinewholesale.com/pattie-a-line-one-shoulder-floor-length-burgundy-ruffled-chiffon-bridesmaid-dresses-g796) is a chic example of how to pull off the trend in an updated way.
These are the styles, colors and trends that are likely to be seen at weddings in 2021.  From thigh-high slits to wrap dresses, structured fabrics, and fresh colors to consider, they are not your average bridesmaid dresses. These trending cheap bridesmaid dresses (https://www.babyonlinewholesale.com/cheap-bridesmaid-dresses-c29) give you an entirely new set of styles to work with, so choose your favorite trend and get shopping.